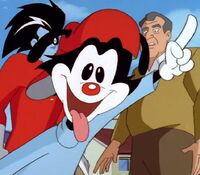 The stars of Animaniacs, Yakko Warner (Rob Paulsen), Wakko Warner (Jess Harnell) and Dot Warner (Tress MacNeille) make occasional cameo appearances on Freakazoid!
The song "Freakazoid and Friends" is a recreation of the Animaniacs opening. The Warners sing about Freakazoid and the other characters to the tune of their theme song. They only physically appear in reused footage from the Animaniacs main title.
Dot appears on a TV in "And Fanboy Is His Name," wearing a bow instead of her trademark flower and sticking a finger down her throat in disgust.
The three appear in clips from the Animaniacs main title in "Next Time, Phone Ahead!"
Yakko and Wakko appear on Freakazoid's TV running through the desert (accompanied by an instrumental of the Animaniacs theme) in "Sewer or Later."
In the pledge drive scroll in "Dexter's Date," Yakko is seen to have donated $1.
Dot and Wakko have cameos on the wrapping paper of the birthday gift Lobe gives Freakazoid in "The Freakazoid." Wakko appears later in the same episode when a man asks if Freakazoid is wacko. Wakko sings part of "Wakko's America," and insists that his show is Steven Spielberg's favorite. Eventually, the Brain arrives as well, and the three bickering characters head to Spielberg's conference room at Amblin. Spielberg asks, "Who are you people?"
The Mime, from the Animaniacs "Mime Time" segments, features in "Mission: Freakazoid."
The Warner Brothers and Sister
Edit
Voices:
Dot: Tress MacNeille
Yakko: Rob Paulsen
Wakko: Jess Harnell
Community content is available under
CC-BY-SA
unless otherwise noted.