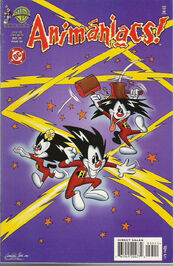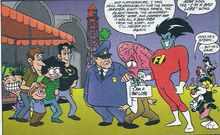 "Tour De Freak" is a comic book story in Animaniacs #35 (cover date March 1998; released January 21, 1998). It is a crossover between Yakko, Wakko and Dot and Freakazoid. The story, Freakazoid's only comic book appearance, was written by Jennifer Moore & Sean Carolan, drawn by Leonardo Batic, inked by Scott McRae, lettered by John Costanza and colored by Prismacolor.
Synopsis
Edit
Yakko, Wakko and Dot heckle a tour guide on the Warner Bros. lot. Freakazoid and Cosgrove also happen to be on the tour, and Dot develops a crush on that "big blue man-child," Freakazoid. Meanwhile, the Lobe's pitch for a WB series, "Polyp and the Lobe," fails, and he decides to take the tour tram hostage.
Characters
Edit
References the narwhal and the Horn of Urgency.
Community content is available under
CC-BY-SA
unless otherwise noted.