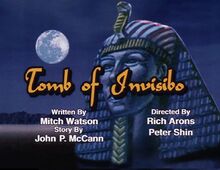 "Tomb of Invisibo" is a segment in Episode 20. It was written by Mitch Watson from a story by John P. McCann, and was directed by Rich Arons and Peter Shin.
Synopsis
Edit
Dexter takes his family to see the newly-exhumed sarcophagus of Ahmon Kor-Unch, and accidentally unleashes an invisible villain.
Characters
Edit
Archeologist (voiced by Jeff Glen Bennett)
Singing Interns (voiced by Elizabeth Lamers and Tress MacNeille)
Near the end of the segment, Freakazoid receives fan mail from Mandy Triceratops of Columbia University. Cosgrove comments, "Those Columbia kids are pretty smart." This is the series' second reference to Columbia, following the dedication in "A Matter of Love" (which referenced the University's tireless efforts to create a race of super beings).
This was the only Freakazoid! episode written by Mitch Watson. He had gone to see John P. McCann and Paul Rugg doing improv when he was in high school, and subsequently began doing improv himself. McCann invited him to write a script for the series.[1] He went on to cowrite the Pinky, Elmyra & the Brain episode "Teleport a Friend" with McCann (episode 10, aired 3/06/99).
The song "Invisibo" (music by Julie Bernstein, lyrics by John P. McCann) was nominated for a Daytime Emmy (it lost to "Hold Me" from Guiding Light).
The singing interns look just like Satan's singers in the Animaniacs short "Hot, Bothered and Bedeviled."
"Invisibo" Lyrics
Edit
How do you find what you can't see
When an invisible guy goes on a crime spree?
He's gone
Where did he go?
That Invisibo
He's a power-hungry kook
With a scepter full of juice
So tell me, where did he go?
That Invisibo
Drinking up all the wattage
He's a nutcase on the loose
So tell me, did he go back to his sandy tomb?
Or go visit friends in Saskatoon?
So tell me, where did he go?
That Invisibo
He's a menace to the town and to property
He wants to be in charge of you and me, I guess
How do you find what you can't see?
When an invisible guy goes on crime spree?
Invisibo!
References
Edit
Community content is available under
CC-BY-SA
unless otherwise noted.