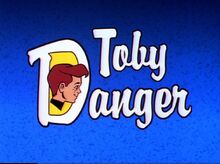 "Doomsday Bet" is the sole Toby Danger cartoon. It is in Episode 2. The segment is written by Tom Minton and storyboarded by Brian B. Chin and Butch Lukic. Eric Radomski directed, but is uncredited.
The "Toby Danger" Intro depicts several adventurous happenings set to a jazzy score, including a robotic scorpion being shot by a tank! It also introduces the main cast.
Synopsis
Edit
At the Danger Semiconductor Testing Lab in Nevada, the World's Largest Semiconductor is stolen by archvillain Dr. Sin, who uses it to wreak havoc across nearby Las Vegas. Dr. Vernon Danger arrives to stop it, along with his son Toby Danger, adopted daughter Sandra Danger, and his bodyguard/co-adventurer, the gregarious "Dash" O'Pepper.
Characters
Edit
Toby Danger: Dr. Danger's young son, along for the ride. He is oddly obsessed with sneaking into the casino to see keno girls, at one point disguising himself as Mr. Peanut. Voiced by Scott Menville.
Sandra Danger: Dr. Danger's adopted daughter. He took her in after one of his experiments destroyed her village and her family. She seems to enjoy her new life very much. Voiced by Mary Scheer.
Dr. Vernon Danger: A cheerfully sociopathic lunatic, embittered by the fact that he can never realize the full potential of his skills due to Earth's limited resources. He seems unfazed by the destruction his experiments cause; no one else seems particularly bothered, either. He and his family travel via a floating island which he invented (complete with detachable sidewalk slabs), a byproduct of the experiment which destroyed Sandra's village. He owns a semiconductor lab, amongst other ventures. Voiced by Don Messick.
Jules the Cat
"Dash" O'Pepper: An adventure-seeker who loves hurling both barrels and racist epithets such as "heathen monkeys!" Voiced by Granville Van Dusen.
Dr. Sin: A supervillain with a vaguely-defined motivation. Voice by Jeff Glen Bennett.
The World's Largest Semiconductor: Voiced by Jim Cummings.
Fred: Security guard at the Ring-a-Ding Bummer Hotel and Casino. Voiced by Frank Welker.
Other Appearances
Edit
The short is an elaborate spoof of the 1960s Hanna-Barbera cartoon show Jonny Quest. The combination of detailed drawings and limited movements (with questionable physics) is slavishly imitated. In the original, this was the result of a limited budget; here, it is a labor of love to recreate that style.
Most of the voice cast in this short were also the voices of the Jonny Quest characters for Hanna-Barbera. Don Messick, the original voice of Dr. Benton Quest, plays his Freakazoid! counterpart Dr. Vernon Danger. Messick is best known to Warner Bros. Animation fans as Hamton J. Pig on Tiny Toon Adventures. Granville van Dusen, the voice of "Dash" O'Pepper, was at the time the official voice of "Race" Bannon at Hanna-Barbera. Likewise, Scott Menville, who voices Toby, had previously voiced Jonny Quest in the 1986-87 reboot series.
Sandra takes the place of the racially insensitive character Hadji. Her backstory (having been adopted by Dr. Danger after he destroyed her village) certainly seems like a viable backstory for Hadji.
This is the only Freakazoid! episode written by Tom Minton. Minton was a story editor and writer on Animaniacs and Tiny Toon Adventures, and this short was in fact written for Animaniacs. However, Freakazoid! producer Mitch Schauer shared Minton's passion for creating a Jonny Quest parody, and the show was made by the Freakazoid! team.[1] Minton claims that the short was only made because a Freakazoid! episode was running short.[2] A caricature of Minton appears in the "laser" shot in the Toby Danger Intro. Minton (the visual model for the Brain) is the small angry-looking man on the left. The other two men are storyboard artists Brian Shin and Butch Lukic.
A caricature of Barney Fife, Don Knotts's character from The Andy Griffith Show, appears, making him the second Griffith Show character to appear on Freakazoid! (after Floyd the Barber in the main title).
The man calling for the diversion of all non-essential power is a caricature of 1950s-era Frank Sinatra. The voice by Don Messick (deliberately) sounds nothing like the real Sinatra, adding to the cheesy slapped-together feel of the cartoon.
The blind singer is a caricature of Ray Charles, and his song is a slightly-altered version of Charles's hit "Hit the Road, Jack."
John P. McCann wrote an unmade pilot script for an ongoing Toby Danger TV series in 1997. The script, "Danger on Ice," involved Dr. Danger battling crabs who had mutated to giant size (due to cruise ship fuel and jettisoned low-salt meals in the water) in Alaska. The script has many jokes about Danger lecturing Toby about the importance of preserving the balance of nature, while simultaneously mirthfully destroying the environment with his gadgets and plans.[3]
References
Edit
↑

Audio Commentary, Episode 2.

↑ http://zvbxrpl.blogspot.com/2007/07/yogi-bear-is-made-of-metal.html?showComment=1185908940000#c3131286939440365137
Community content is available under
CC-BY-SA
unless otherwise noted.