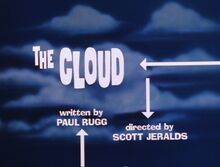 "The Cloud" is a segment in Episode 10 written by Paul Rugg and directed by Scott Jeralds. It originally aired on October 14, 1995 (in between Episodes 5 and 6) as part of the variant episode Episode 2A.
Synopsis
Edit
A mysterious cloud on a mountaintop in the European village Schnitzel is turning hikers into clowns. Freakazoid teams up with his old friend Professor Heiny, who has a laboratory on the mountain, to get to the bottom of the phenomenon.
Characters
Edit
Bernt (hiker; voiced by Larry Cedar)
Hiker 1 (voiced by Paul Rugg)
Professor Heiny's assistants (voiced by Larry Cedar, Tress MacNeille)
Train conductor (voiced by Edward Asner)
Unag (hiker; turns into clown; voiced by Ed Gilbert)
The credits of The Cloud are as follows: Starring Egner Renge, Kib Usa, Bunt Piper, Wingate Chalmers; Co-Starring Lucy Bute, Claus Vumer, Tipy Chang, Lavidicus O'Day; and Weena Mercatur as the Hopping Woman; Directed by Vic Burma.
Much of the short is a parody of The Crawling Eye (the American title of the 1956 British film The Trollenberg Terror), which Rugg and John P. McCann watched shortly before Rugg wrote the segment. The film involves a mysterious cloud overtaking a mountain in Switzerland and beheading those whom it envelops.
Freakazoid and Professor Heiny sing a song about "Ooey Gooey" the worm, who gets run over on the train tracks. In "The Chip, Part I," Guitierrez threatens to put ooey gooey worms into Dexter's ears to torture him. In the Animaniacs short "Hearts of Twilight" (written by Paul Rugg), the character Mr. Director (voiced by Rugg) delivers a monologue about a snail named Oooey Gooey slithering across the railroad track.
Community content is available under
CC-BY-SA
unless otherwise noted.