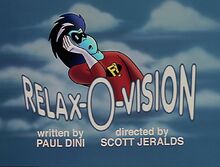 "Relax-O-Vision" is a segment in Episode 9. It was written by Paul Dini and directed by Scott Jeralds.
Synopsis
Edit
As Freakazoid fights a battalion of demon ninjas, the scene is replaced by a soothing shot of fishies thinking happy little pleasant thoughts, courtesy of Kids' WB! Professor of Broadcast Standards H. A. Futterman. Futterman presents the segment "Terror on the Midway!"
Terror on the Midway! Edit
Freakazoid is helping Steff make money for the school by offering his services at a kissing booth at the carnival. The Lobe kidnaps Steff and holds her hostage at the Smithsonian, where he, Cave Guy, Cobra Queen, Longhorn and Kid Carrion attack Freakazoid when he arrives. The fights are replaced with Relax-O-Vision scenes until Freakazoid gets so annoyed that he storms into Futterman's office and gives him a taste of violence.
Characters
Edit
This segment marks Cobra Queen's first speaking appearance, and Kid Carrion's only "speaking" appearance.
Max Steiner's theme from the 1958 movie A Summer Place plays over the Relax-O-Vision clips. It was also used in the scenes of the Network Censor in Episode 3.
Community content is available under
CC-BY-SA
unless otherwise noted.