Jurassic World: Dominion Dominates Fandom Wikis - The Loop
Play Sound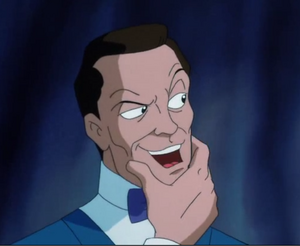 Professor Jones is Freakazoid's second butler, once Ingmar quits. Ingmar recommends him. He is prissy, insecure, easily frightened, and constantly scheming. He learned Freakazoid's secret identity his first day on the job due to Cosgrove's indiscretion. Jonathan Harris provides his voice.
Personality
Professor Jones is an old friend of Ingmar's. He is at first horrified when he learns the details of the job: he expects to be supervising a large staff, and refuses to personally construct anything more complicated than a jelly sandwich. However, Freakazoid's offer to double his pay persuades him. He repeatedly complains that his back is too delicate to do even the most undemanding tasks, such as placing a videotape into a VCR.
Although confrontational and snobbish, Jonesy is desperate to be accepted, and becomes very upset when people (particularly Cosgrove) dislike him. He appears to believe in pixie people, and thinks the government has been covering up their existence. Freakazoid and Cosgrove take great pleasure in sending spooky monsters (such as Candle Jack and Dracula) to frighten Professor Jones.
Specialty dishes which Jonesy prepares include croutons with melted brie and bottled Pelliguano water from the island of Bim, and muffins made entirely of dill weed.
Appearances
Season 2
Trivia
Like several other characters on the show (Cosgrove, Guitierrez), Jonesy is based on his voice actor's persona. He is named after Harris' most famous character, Dr. Smith from the 1960s TV series Lost in Space, and characters on the show frequently ask Jonesy if he was on a TV show with a robot, much to his annoyance. At one point, in a moment of despair, Jonesy himself nearly screams, "It will never end! We're lost in space!" before abruptly stopping himself.
Freakazoid! producers/story editors Paul Rugg and John P. McCann decided that if the show were renewed for a second season, they would ask Harris to do a voice. The wrote him an extremely long, elaborate letter with great ceremony, then learned that Harris "would have showed up for the opening of a post office."[1] Rugg wrote a posthumous tribute to Harris on his blog, detailing Harris' love of Freakazoid!'s anarchic style, and Rugg and Harris' ongoing friendship after the end of the show[2]
Quotes
References
↑ Liebeslied für Normadeus Feature.