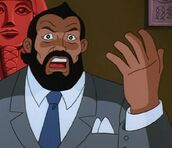 Professor Beasthead is a curator at the Museum of Antiquity. He gives Dexter a tour for extra credit, including the Tomb of Amon Kor-Unch. His voice is provided by John Rhys-Davies.
Appearances
Edit
"I'm sure it's just one of our employees microwaving some popcorn or a duck."
(loopy after being knocked out) "More jam for the entire regiment."
Professor Beasthead is drawn to resemble voice actor John Rhys-Davies. Rhys-Davies was at the time best known for playing Sallah, an Egyptian excavator, in the Steven Spielberg films Raiders of the Lost Ark and Indiana Jones and the Last Crusade (apropos to his role in this Ancient Egyptian-themed episode). Rhys-Davies also had a prominent role in the 1987 James Bond film The Living Daylights, and went on to play Gimli in the Lord of the Rings films. His other voiceover work includes playing snooty piano player Tympannini in the Animaniacs short "Piano Rag," narrating the Pinky and the Brain short "Brainie the Poo," and playing the historical figure Macbeth on Freakazoid!'s contemporary animated series (and favorite spoof target) Gargoyles.
Community content is available under
CC-BY-SA
unless otherwise noted.