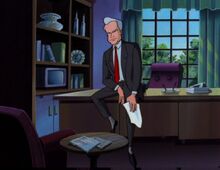 Paul Harvey was a real-life radio host who, from 1976 until his death in 2009, hosted a segment called The Rest of the Story, wherein he would tell a tale of a person overcoming tremendous adversity, and then would reveal in the last moments the name of the subject of the piece -- inevitably some unexpectedly well-known and successful person.
Harvey is caricatured in multiple episodes of Freakazoid! with his voice provided by Paul Rugg. He is often used as a deus ex machina to wrap a story up quickly by describing what happened, or to give unnecessarily detailed backstories for villains. He is invariably depicted in an office sitting on a desk.
Appearances
Edit
Season 1
Edit
Season 2
Edit
Paul Rugg had been a programmer on Harvey's show, giving him ample opportunity to hone his impression. When the Animaniacs writers won a Peabody Award, Harvey also won and gave an acceptance speech. Every time he said the word "Peabody," he would take a long pause in the middle of the word, sounding exactly like Rugg's impression of him. Rugg and the other Animaniacs writers began giggling uncontrollably throughout Harvey's speech, to the horror of Jean MacCurdy, and Harvey subsequently became a running joke in the Warner Bros. Animation offices. During a walk one day with John McCann, Rugg started impersonating Harvey describing Freakazoid! plots, and they resolved to include him in the show.[1]
Harvey's odd interjections ("Smack me with a handle!") were Rugg's "ramp-up" to do the impression. He did not intend them to be in the final mix, but Tom Ruegger decided to leave them in.[2]
"Paul Harvey's head" is listed in the Paul Rugg-penned parody of "These Are a Few of My Favorite Things" in the Animaniacs short "The Sound of Warners."
References
Edit
↑ Audio Commentary, Episode 2; http://froynlaven.blogspot.com/2009/03/paul-harvey-and-day-we-brought-great.html
↑

Audio Commentary, Episode 2.
Community content is available under
CC-BY-SA
unless otherwise noted.