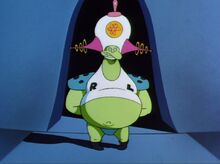 "Mo-Ron" is the overall title given to the semi-related interstitial segments that play throughout Episode 3. They are written by Tom Ruegger.
Following each of these segments, a network censor appears, claiming that the segment was too scary or violent, and is immediately crushed by an anvil.
Nuclear Warhead
Edit
In the cold open, Freakazoid has just deactivated a nuclear warhead at the White House. Dignitaries, including President Bill Clinton, Pope John Paul II, and (much more enticingly) Princess Diana and Sharon Stone line up to congratulate him.
Freakazoid, the President and First Lady, and a general cautiously try to speak to an alien ship that has landed on the White House lawn. They hope the aliens will provide the secrets of the universe. Eventually, an alien emerges, who seems unable to say anything besides, "I am Mo-Ron."
The Big Question
Edit
After a false start (interrupted by a WB Network Special Report, wherein Freakazoid questions what the "WB" stands for), Freakazoid and President Clinton confront another alien ship. This one contains an alien seeking answers from the Earthlings, on a matter of vital universal importance.
Freakazoid, at the Hollywood Bowl, wishes the audience goodnight. Mo-Ron is still following him around, and suddenly remembers his message, a bit too late. The world is destroyed.
Characters
Edit
Alien (traveled many millions of light years and across 40 billion galaxies to to get the answer to an important question; voiced by Frank Welker)
Hillary Clinton (caricature; voiced by Tress MacNeille)
Princess Diana (caricature; voiced by Tress MacNeille)
General (voiced by Frank Welker)
Pope John Paul II (caricature; voiced by Frank Welker)
Sharon Stone (caricature; voiced by Tress MacNeille)
The fighting Freakazoid! crew members in the final scene are, from left to right: Paul Rugg and John P. McCann (strangling one another), Tom Ruegger, Paul Dini (with Ruegger in a choke-hold), Steven Spielberg, unknown (possibly Eric Radomski) being choked by Bruce Timm, associate producer Haven Alexander (beating Timm on the head), Jean MacCurdy (fighting Spielberg for the script), Jack Heiter, Mitch Schauer, Dan Riba (on the ground under Schauer's feet), Scott Jeralds, and Ronaldo Del Carmen. Paul Rugg's voice can be heard as himself; other voices are Rob Paulsen and Tress MacNeille.
Mo-Ron's ship and the way that scene starts out parody the 1951 sci fi classic The Day the Earth Stood Still.
The finale takes place at the Hollywood Bowl (previously seen in "Doomsday Bet" as the venue for a Ray Charles concert). Several bras and panties are thrown at Freakazoid, as well as what appears to be a box of pasta. The latter is likely a reference to the band the Barenaked Ladies: a line in the song "If I Had $1,000,000" has inspired fans to infamously throw Kraft Dinner onto the stage at concerts.
Community content is available under
CC-BY-SA
unless otherwise noted.