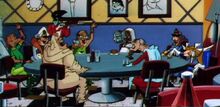 "Legends Who Lunch" is a segment in Episode 3. It was written by Tom Ruegger and directed by Dan Riba.
Synopsis
Edit
Several elderly superheroes sit around in a deli kibitzing. Freakazoid serves them.
Characters
Edit
The Legends' names appear in the end credits. From left to right of frame, they are: the Aunt Eater, Sergeant Scurvy (voiced by Paul Rugg), Lady Vericose, Captain Sharpei, Frost Heaves (voiced by Frank Welker), Krimson Kvetch (voiced by Maurice LaMarche), the Stygmatist, and the Mighty Avarian.
Zippy the Fast Boy, the Green Fog, and the Brown Fog are mentioned (as is Aquaman's Uncle Leo, who was turned into shrimp scampi).
The segment is a parody of the famed Algonquin Round Table and other such gatherings of old-timey (primarily Jewish) professional comedians. The NY deli setting is appropriate.
Also appropriate to the NY setting, the title is a spoof of a song from a Broadway musical: "The Ladies Who Lunch," from Company, by Stephen Sondheim.
Michigan J. Frog, star of the Looney Tunes Chuck Jones classic "One Froggy Evening" and mascot of the WB Network, is seen in a bus-side ad having been turned into frog leg soup -- perhaps an instance of the writers venting their frustration with the network. The music in the scene is a spoof of Michigan J.'s favorite tune, "Hello My Baby."