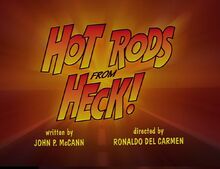 "Hot Rods from Heck!" is a segment in Episode 8. It was written by John P. McCann and directed by Ronaldo Del Carmen.
Synopsis
Edit
On a road trip through the western desert to see Dexter's grandfather (who is unwell and wears a little cardboard hat), the Douglases encounter some speed-demon sentient crash test dummies in hot rods who run them off the road. While his family is stranded in the desert, Dexter "freaks out" and uncovers a fiendish plot by supervillain Longhorn, who plans to steal a nuclear warhead being transported by the U.S. Air Force, in order to hold Nashville hostage until he is given a recording contract. Freak gets his favorite Freakmobile ("because it runs!"), and engages in a high-speed chase across land, sea and air.
Characters
Edit
The actors credited as appearing in Hot Rods from Heck! are: Ruth Canto, Mimsy Ling and Weena Mercator as the Hopping Woman; the "film" is directed by Dobie Atwood Jr..
The geography of this episode is particularly absurdist: although the majority of the action appears to take place in the western U.S., Freakazoid manages to go to his Freakalair (in D.C.), then returns to the western desert via a Freakalair exit specifically built to connect with that location. He then uses the Freakmobile to grab a piece of the Great Wall of China, and lures Longhorn to Wrigley Field in Chicago, Illinois (with Freak on foot while Longhorn is in his truck).
Community content is available under
CC-BY-SA
unless otherwise noted.