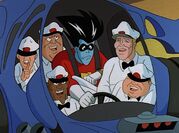 Gasigo is a gas station chain where the employees break into an extremely long song whenever a customer says to "fill 'er up." Freakazoid encounters them when he runs out of gas with only two minutes to save the world, and allows them to come along with him in the Freakmobile to finish their song. They subsequently torture Guitierrez with their endless singing when he steals the Freakmobile.
Appearances
Edit
Trivia / Other Appearances
Edit
Gasigo reappears in the short "Better Living...Through Cheese" in Pinky, Elmyra & the Brain Episode 2 (written by "Heroboy" cowriters Wendell Morris & Tom Sheppard and co-story edited by John P. McCann). An elderly couple, Edna & Zeke, sabotage Brain's "mold fusion" sustainable energy source at the science fair on behalf of "big oil" company Gasigo.
The similarly-named gas station "Gas / Go" (with a lightning bolt in place of the slash) appeared in the Paul Rugg-penned Animaniacs episode "Potty Emergency."
If you want service with a smile, we will go that extra mile
We clean windows, fill the tank
Wash the hood, no need to thank
Gasigo, we're at your service
Gasigo, that is our purpose
Gasigo, we love your car
Gasigo, we're never far
Gasigo, we're here to please you
Giasigo, we'll never leave you
G-A-S-I-G-O
Gasigo
So put us to the test, we will strive to do our best
Community content is available under
CC-BY-SA
unless otherwise noted.