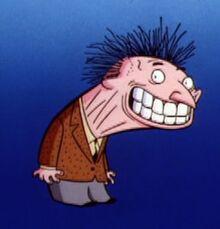 Emmitt Nervend is a character who frequently appears in the background, as sort of a deranged version of "Where's Waldo?" He wears a suit, his hair stands on end as if he has just been electrocuted, and he perpetually has a tremendous smile on his face. Generally he looks the same in all of his appearances, and is rarely animated.
The credits in the first season included a gag credit for Emmitt each episode, as well as a credit instructing the viewer how many times Emmitt could be found in the episode. Both practices were abandoned in season 2, but Emmitt continued to appear.
Appearances
Edit
Season 1
Edit
Season 2
Edit
Animaniacs Comic
Edit
Emmitt Nervend Credits
Edit
The following is a list of Emmitt's credited job titles in season 1.
Weird Guy
Our Mascot
Mr. Personality
Raccoonnookkeeper!
Smiley Man
Giggling Fool
Bobbie's[1] New Boyfriend
Sexiest Man Alive
Mitch's Best Friend
Dan Riba's Barber (Dan Riba is also credited as Emmitt's barber)
Annie Award[2] Winner
Santa's Helper
Network Censor
In Therapy
Say Goodbye To
Emmitt originated as a sketch by first season producer Mitch Schauer. Tom Ruegger saw it hanging in Schauer's office and asked to use the character on the show.[3] At Freak-a-Con 2018, Schauer described Nervend as being "on the verge of being a serial killer or having a nervous breakdown."
References
Edit
↑

Bobbie Page, Assistant to the Producers.

↑

The Annie Award is the most prestigious award given only to animated programming.

↑

Audio Commentary, Episode 1.
Community content is available under
CC-BY-SA
unless otherwise noted.