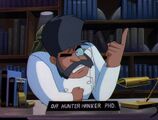 Dr. Gunther Hunterhanker, PhD., appears in "Candle Jack" to rebut the idea that a bogeyman could kidnap victims simply because they say his name. Hunterhanker is taken prisoner by Candle Jack moments later.
The character of Dr. Hunterhanker is based on Inspector Kemp from Mel Brooks's Young Frankenstein. Hunterhanker is voiced by Kenneth Mars, the actor who played Kemp in the film, and is drawn as a caricature of Mars in the role, right down to the outrageous facial hair. Freakazoid refers to Mars by name during his fourth-wall-breaking monologue.
Mars also played Ludwig von Beethoven in the Rugg-scripted Animaniacs segment "Roll Over, Beethoven."
Community content is available under
CC-BY-SA
unless otherwise noted.