Bruce W. Timm developed the original concept for Freakazoid! with Paul Dini and Alan Burnett. He designed Freakazoid and many of the other characters (including Cave Guy, Cobra Queen, Candle Jack, Steff, an early incarnation of Longhorn, Duncan, Deadpan and Kid Carrion). Timm left the project when he realized that Steven Spielberg's concept of the show leaned more toward comedy than action-adventure.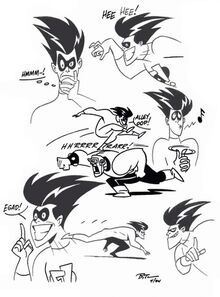 Timm had worked on Tiny Toon Adventures as a storyboard artist and model designer, and much more notably, was a producer, director and character designer on Batman: The Animated Series. As of 2017, he continues to executive produce many of Warner Bros. Animation's DC Comics-related projects.
Freakazoid! Credits Edit
Caricatures/Cameos
Edit
Community content is available under
CC-BY-SA
unless otherwise noted.